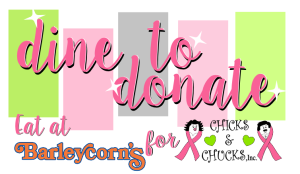 Join Us MONDAY, October 19, 2015 at any one of the THREE Barleycorn's locations and help us help those fighting breast cancer.
Have lunch or dinner or happy hour after a long day of work and 15% of your check will be donated to CHICKS & CHUCKS!
So CLICK on the link below and PRINT a flyer out that has a coupon on the bottom because you must present the coupon to your server for your donation to count.
LINK→Dine to Donate 2015 FLYER
Tags: Barleycorn's, CHICKS, CHICKS & CHUCKS, Chucks, DINE to DONATE